Site Preparation Services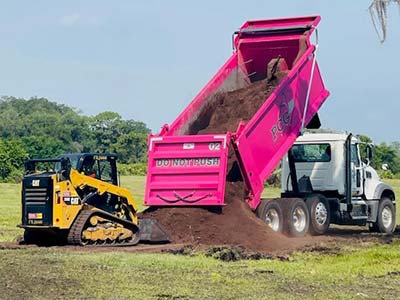 At PC Grading, we take pride in providing our services to help complete our clients' projects in an efficient and effective manner. We offer an extensive array of site development services and vast experience in the field. Our range of services includes land clearing, excavation, land grading, house pad grading, dirt and rock import, drainage installation for stormwater management, and much more. Explore the key services that we provide to our clients throughout St. Cloud and the surrounding areas.
Land Clearing
Our land clearing services include surveying the land against the development plan and getting the land to a point where it is ready to be developed. Usually, this begins with clearing any or all the large rocks or vegetation. Trees and bushes are usually the major obstacles for most development projects. Even when there are no visible trees, the roots can create issues over time. We focus on environment-friendly and cost-saving processes that enhance the aesthetic and functional aspects of your property for the task at hand. Read More About Land Clearing >>
Grading
Once we have cleared the land, the next phase is grading. We will plan the steps of this process depending on what the land is like. The steps can also include preventing erosion and drainage control to ensure that the land will hold up over time. Our grading services ensure that the base of level ground is set before the development process begins. It is also used to engineer the required slopes to ensure solid erosion control on the ground. Overall, the service helps in preventing unnatural or large discharge of stormwater runoff and cause damage to neighboring properties. Read More About Grading >>
House Pad Grading
A building is built on a foundation. The stability of that foundation depends on the quality of the building pad. Our house pad grading services focus on preparing solid, compacted, level, and raised surfaces. Developing a house pad involves lots of steps, as it involves cutting and filling to ensure that the pad is solid. The house pad is the foundation of your home foundation. It must be done right the first time. It takes years of experience to have the right knowledge to prepare the land for grading and excavation. Read More About House Pad Grading >>
Bobcat & Loader Services
We provide Bobcat and loader services for different land development projects including excavation, demolition, grubbing, and much more. We are fully equipped with the latest equipment and tools to handle all types of land development tasks. Our services are available for digging holes for new pools, filling holes after removing pools, using bobcat skid loader for clearing out tree lines, removing lawns or installing new ones, moving dirt, grading tasks, and planting new trees or shrubs. We have the tools, expertise, and experience to address different types of requirements. Read More About Bobcat & Loader Services >>
Excavation
Excavation is an important factor in making a piece of land ready for development. Excavation is an essential process before starting most construction projects. It is especially a necessity if the development requires a building structure with a foundation. We also provide excavation to turn a piece of land into farmland, pasture, or garden. The steps can include drilling shafts, digging the foundation, earthmoving, drilling, ground de-watering, debris removal, grading, and more depending on the project. The type of excavation work can include new work, alterations, additions, and repairs. We handle both residential and commercial excavation projects. Read More About Excavation >>
Import Dirt & Rock
We provide dirt and rock import services for all kinds of projects. From site pad preparation to drainage to any other project, we can import dirt and rock of required specifications. Work may require better quality dirt, sand, pee gravel, or rocks of a specific size. Whether it is for sites with low elevation or sites that need a unique grade of fill dirt, we can address different types of requirements. Our services can include planning the quantity of dirt required, conducting soil analysis, and making the logistical arrangements, among others. Read More About Import Dirt & Rock >>
Installation of Underdrain Systems
We install different types of drainage systems, including underdrain systems, depending on the type of project you have. This includes Slit Drainage Systems, Catch Basin or Collector Drain Systems, Laser Regrading, Pattern Field Tiling, French Drain Systems, and more. We provide installation services for Synthetic and Sand-Based Performance Fields too. We create drainage systems to prevent any future water issues. Poor drainage is a common cause of destroyed lots. We can install dry wells, swales, and complete grading required to reshape the land for preventing erosion and other natural events. Read More About Installation of Underdrain Systems >>
Grading For Stormwater Management
Our grading services for stormwater management help you meet the BMP compliance requirements and prevent damages due to natural events. Our services include the creation of various systems including bio-swales, drainage systems, bio-retention basins, rain gardens, and detention systems. Erosion control and soil stabilization can involve rough and finish grading. We provide full-scale grading solutions for completing your projects. Hydroseeding services may also be required to apply muscles and prevent erosion. The steps involved will depend on the site and the type of development involved – including excavation, land clearing, site pad grading, and more. Read More About Grading For Stormwater Management >>
We provide full-scale site development services using our vast experience, expertise, and state-of-the-art equipment. Our experienced and certified staff can handle projects of all sizes and complexities throughout the region. No work is too big or too small for us. If you have a project in St. Cloud or the surrounding regions, reach out to us today at 407-891-9621 to discuss your requirements. Our experts will be eager to discuss the potential solutions and visit your site.
We Provide Services to the Following Cities, Towns, Counties, and Surrounding Regions of FL:
Counties: Volusia, Brevard, Lake, Orange, Osceola, Polk, Seminole.
Cities: